Fifty war correspondents have gathered in Bayeux on October 6th and 7th to debate and award trophies in the following categories: photo, print, radio, television, grand format television, young reporter (print) and video image. Three honorary awards have been attributed: the Regional prize for students and trainees of Normandy (television), the Public's Choice award (photo) and the Ouest-France – Jean Marin prize (print). Presided by Jeremy Bowen, the international jury of the 24th edition of the Bayeux-Calvados Award for war correspondents has reached its verdict…
"It's been a great honor to be president of the jury. I've really enjoyed it, as well as working with my French colleagues.
I'm very impressed by the standard of the entries, dominated by Iraq and Syria, which was very high. I think it shows that journalism is in a good state, a good position. The final choice, made by the jury composed of very experienced journalists, was the right one. It shows that there are some very brave, skillful and honest journalists who are working in some of the world's most dangerous places. They are shining a light into the dark corners of the world and that is a very important thing to do." Jeremy Bowen
PHOTO TROPHY – INTERNATIONAL JURY
AWARDED BY NIKON

1st Prize
Ali ARKADY
VII
Kissing death
IRAQ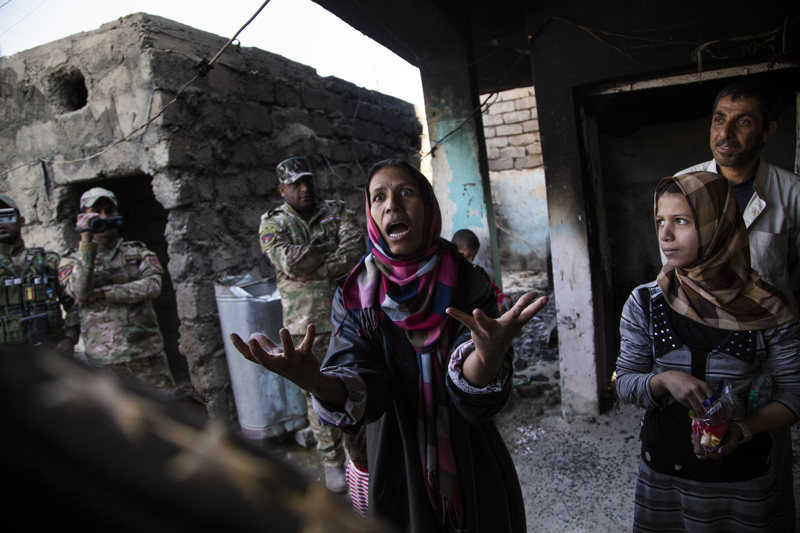 Ali ARKADY

Une femme se confie par peur à un officier de l'unité ERD après que sa maison a été bombardée par les forces irakiennes. Son frère a été kidnappé par Daech.
Village de Qabr al-Abd, Hammam al-Alil, Mossoul, le 7 novembre 2016.
2nd Prize
Laurent VAN DER STOCKT
LE MONDE
La bataille de Mossoul
IRAQ
3rd Prize
Lorenzo MELONI
MAGNUM PHOTOS
La chute du Califat
LIBYA – IRAQ
TELEVISION TROPHY – INTERNATIONAL JURY
AWARDED BY AMNESTY INTERNATIONAL

1st Prize
Waad AL-KATEAB
CHANNEL 4
Rebel-held Aleppo's last hospital
SYRIA
2nd Prize
Arwa DAMON and Brice LAINÉ
CNN
Mosul survivors: death is better than this life
IRAQ
3rd Prize
Fergal KEANE and Rob MAGEE
BBC NEWS
Yemen
YEMEN
PHOTO TROPHY – PUBLIC'S CHOICE AWARD
SPONSORED BY THE FRENCH DEVELOPMENT AGENCY (AFD)
1st Prize
Antoine AGOUDJIAN
LE FIGARO MAGAZINE
La conquête de Mossoul ouest
IRAQ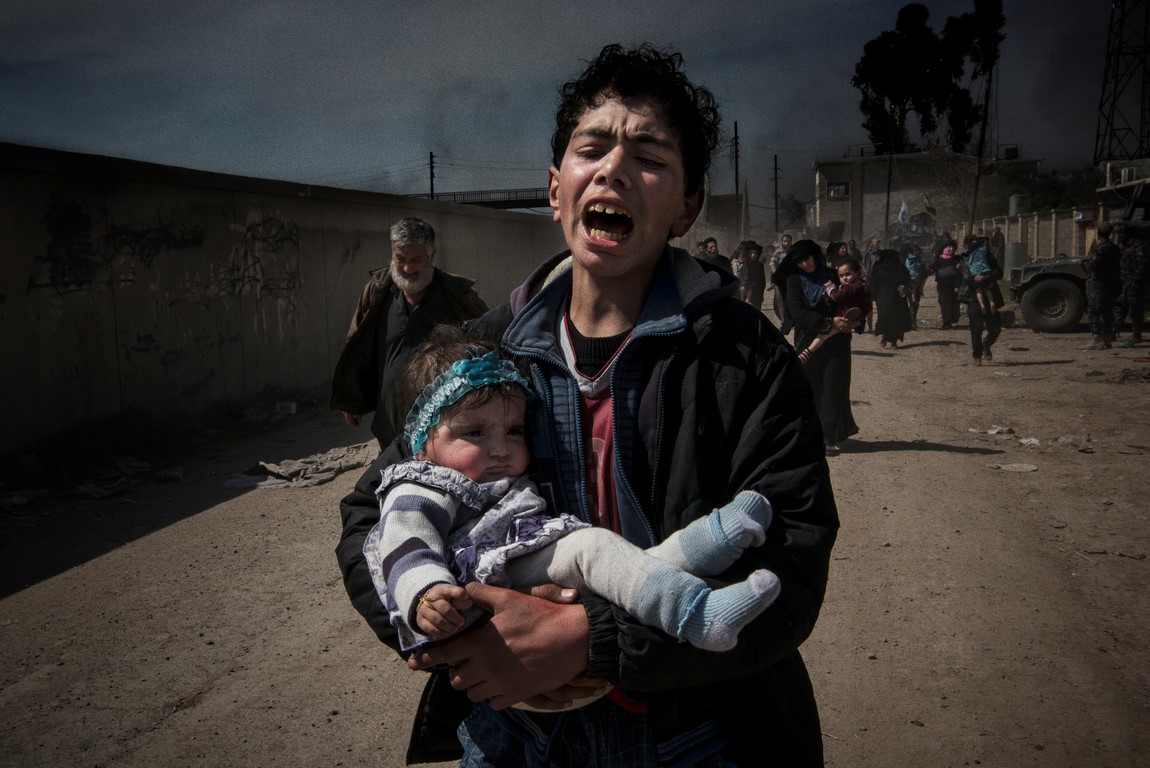 Antoine AGOUDJIAN

Cortège de rescapés fuyant la zone des combats. Pris en étau entre les attaques de l'armée irakienne et les djihadistes, (ils tuent les civils qui fuient l'EI). Ils ont tout abandonné derrière eux pour sauver leurs vies. Nombreux morts et blessés dénombrés. Ce jeune adolescent traumatisé porte sa petite sœur, il a perdu au cours de l'exode des membres de sa famille.
TELEVISION TROPHY – REGIONAL PRIZE FOR STUDENTS AND TRAINEES OF NORMANDY

1st Prize
Waad AL-KATEAB
CHANNEL 4
Rebel-held Aleppo's last hospital
SYRIA
PRINT TROPHY – INTERNATIONAL JURY
AWARDED BY THE DEPARTMENT OF CALVADOS

1st Prize
Samuel FOREY
LE FIGARO
Mossoul : cinq offensives pour une bataille
IRAQ
2nd Prize
Fritz SCHAAP
DER SPIEGEL
Despair and debauchery in Assad's Capital
SYRIA
3d Prize
Karam AL-MASRI and Rana EL MOUSSAOUI
AFP
Covering Syria through hunger and fear
SYRIA
RADIO TROPHY – INTERNATIONAL JURY
AWARDED BY THE D-DAY LANDING COMMITTEE

1st Prize
Gwendoline DEBONO
EUROPE 1
L'entrée dans Mossoul
IRAQ
2nd Prize
Mike THOMSON
BBC NEWS
Secret Library
SYRIA
3rd Prize
Omar OUAHMANE
FRANCE INTER
Syrte, l'autre guerre contre Daech
LIBYA
YOUNG REPORTER TROPHY (PRINT) – INTERNATIONAL JURY
SPONSORED BY CAPA PRESSE TV
1st Prize
May JEONG
THE INTERCEPT
Death from the sky
AFGHANISTAN – USA
GRAND FORMAT TELEVISION TROPHY – INTERNATIONAL JURY
AWARDED BY SCAM
1st Prize
Olivier SARBIL
CHANNEL 4 NEWS
Dans la bataille de Mossoul
IRAQ
VIDEO IMAGE TROPHY – INTERNATIONAL JURY
SPONSORED BY Bew TV / FRANCE 24 / ARTE
1st Prize
Olivier SARBIL
CHANNEL 4 NEWS
Dans la bataille de Mossoul
IRAQ
PRINT TROPHY – OUEST-FRANCE – JEAN MARIN

1st Prize
Fritz SCHAAP
DER SPIEGEL
Despair and debauchery in Assad's Capital
SYRIA