Thomas Dworzak is an internationally acclaimed war photographer and a specialist in the Caucasus, who has been documenting the majority of world events since the 1990s. He has been a member of Magnum Photos since 2000 and was their president from 2017 to 2020. His work has been widely published, including by The New Yorker, Newsweek, U.S. News & World Report, Paris Match, The New York Times Magazine, Time…  He won the World Press Photo award in 2001 for a report in Chechnya.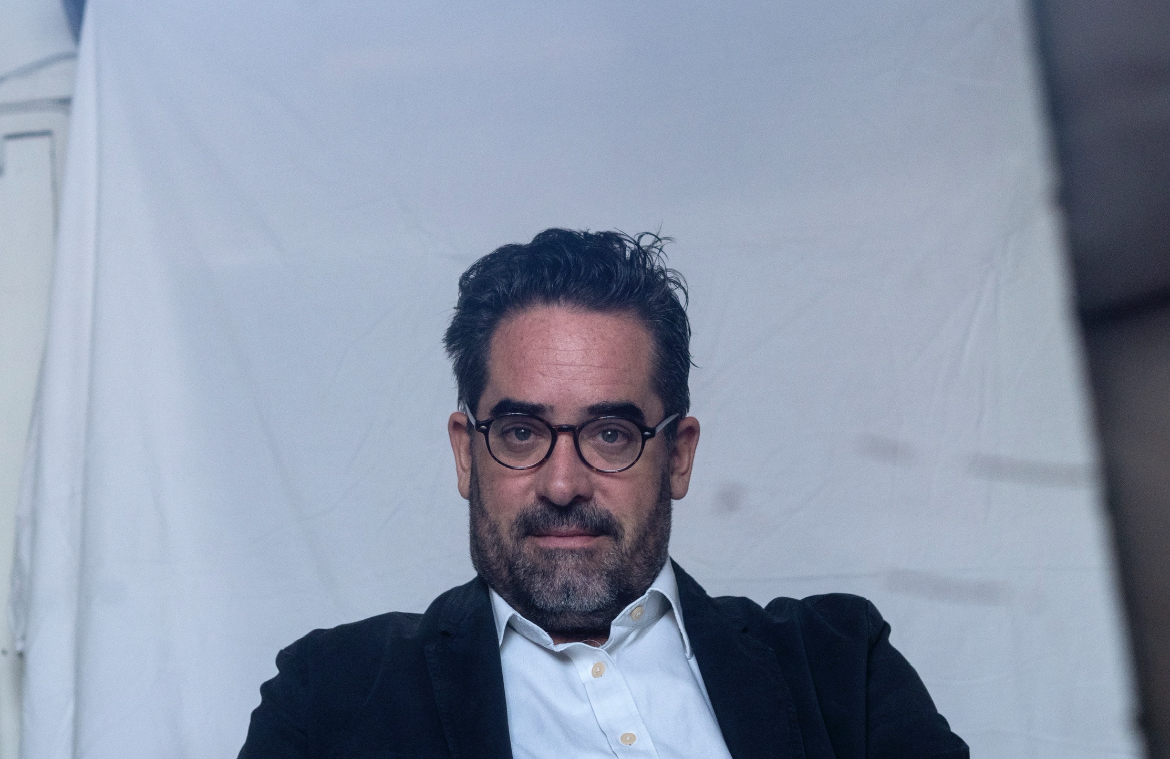 The self-taught photojournalist Thomas Dworzak (50) has spent the last thirty years travelling throughout the world, from Afghanistan to Iraq via the former Yugoslavia, Iran and the Caucasus, providing an unconventional take on the conflicts. He has been a member of the prestigious Magnum Agency since 2000 and has received many awards, notably from the World Press Photo in 2001 for his work in Chechnya.
"I grew up in a peaceful part of Bavaria, in a provincial, very protected environment. I needed an extreme form of challenge. Photographing war is the ultimate in extreme." Thomas Dworzak was born in Kötzting, in Germany, in 1972, and grew up in the small town of Cham, in a family of teachers. It was the height of the Cold War, and they were 7km from the iron curtain and the border with what was then Czechoslovakia.
"The wall had just come down but the East didn't attract me. I went to Northern Ireland, Israel, Palestine. I had a vague idea of becoming a photographer. I had taken photographs but didn't have any photographic culture or technique. It was a mixture of a wish to provoke, a desire to travel and an interest in stories, narratives, and especially the ones surrounding my maternal grandfather who had been killed in the war, and the deportation of my father's family, which made me want to put the famous vest with pockets."
With no network of contacts or funding, Thomas Dworzak tried to get to the former Yugoslavia, where the biggest conflict on European soil since the Second World War had just broken out. "I followed some German fascist volunteers to Croatia. I sent some small prints to the daily newspaper '"Tageszeitung". They didn't keep any of them." His first break came in Prague, where he was taking language courses (he speaks French, English, Spanish and Russian). There he met the editor in chief of the only German newspaper in the city, through whom he obtained accreditation. A door-opener.
"Wostok, the smallest of the big agencies"
In 1992 he went to Moscow, and then settled in Tbilisi, in Georgia, from 1993 until 1998.  "I was fascinated by the Caucasus, and spent most of my time between Grozny and Tbilisi. The Russian forces were merciless. The Chechens fought with pride. I discovered a people who were armed to the teeth, there were kalashnikovs everywhere, but they had an incredible sense of hospitality. "He followed the conflicts in Chechnya but also in Karabakh and Abkhazia.
"In 1995, when I returned on a visit to Germany, I went to the French embassy. I asked for the yellow pages and sent applications to 40 agencies based in Paris." Magnum politely replied that it is a cooperative with a very strict recruitment procedure. Wostok, "the smallest of the big agencies", took him on. "Jean-Claude Zullo and his wife, who was from Montenegro, took me under their wings. It was a small but highly respected agency. They brought me out of my isolation." In 1999 he went to live in Paris. That same year he was called on by a friend who was a correspondent for The Guardian, and went to cover the crisis in Kosovo. "The technology boom was going on. I bought a colour scanner and a computer, and then I could be autonomous." His work about a Serbian massacre was noticed by the U.S. News & World Report. "I was becoming a pro. I was earning money. I was sending photos every day."
2nd prize at Bayeux
A year later he returned to Chechnya after the Russian troops had left. "It was like day and night. Instead of being able to travel around freely as before, I had to have six bodyguards. Then an English journalist hired me as a Russian interpreter. By bringing her back to Chechnya as a fixer, I was able to take exclusive photos of the Chechen exodus. I took the best photos of my life while I was working as an interpreter." His report "Leaving Grozny" was published by Newsweek, Paris Match, The New York Times and was awarded 2nd prize at Bayeux in 2000.
After the fall of Grozny be began work on a project looking at the impact of the war in Chechnya on the neighbouring North Caucasus. This work carried out between 1992 and 2002 was published in 2010 in the form of the book Kavkaz.
He also photographed events in Israel, the war in Macedonia, the refugee crisis in Pakistan, Baghdad under Saddam Hussein, and Iraqi Kurdistan.
Mainly based in New York since 2004, he photographed the political landscape in the USA and the consequences of the war in Iraq, to which he also devoted "M*A*S*H", an astonishing composition combining the fictional film/series and the reality in Iraq, which was exhibited at Bayeux in 2007.
Dworzak joined the Magnum agency in 2000, becoming its president from 2017 to 2020. "The agency wanted some new blood. I was surprised. I had thought it was only for very well established photographers, a sort of Holy Grail."
His first book was made up of photos – that weren't by him
After 11 September 2001 Thomas Dworzak spent several months in Afghanistan on an assignment for the New Yorker. He returned with his first book, "Taliban". The project was surprising, provocative and subversive… The photojournalist's project was based on portraits of members of the Taliban that he found in the back rooms of shops doing identity photos. They showed Taliban fighters against colourful, fantasy backgrounds, their eyes underlined with kohl… "First, the Taliban banned everyone from taking photos. Then they closed the photo studios, then they opened them again clandestinely, and in the end they had their photos taken. Except that no-one else was allowed to take them. So my first book is made up of photos that I didn't take."
Since than, he has been to Iran and Haiti. He has also produced reports on the revolutions taking place in republics of the former Soviet Union – Georgia, Kyrgyzstan and Ukraine. For his most recent project, "Feldpost" (2013-2018), he photographed the "memory" of the First World War in more than 80 countries. While covering the 2015 refugee crisis he devised "Europe – a photographic guide for refugees", a book he produced himself and distributed free of charge to migrants.
His current project "War Games" is a long-term research project photographing all kinds of reconstructions, in the broadest sense of the term.
Thomas Dworzak is very "touched" to chair the jury at the Prix Bayeux, and says he is looking forward with impatience and curiosity to debating the way the Russian invasion of Ukraine has been covered by his colleagues. "I recently came across an old publication which had been used to illustrate an article called "Putin's Wars". In 2000. I feel as though I've made my career under the shadow of the leader. He set up an unhealthy relationship with the neighbouring countries. Somewhere between worship of a romantic idea of the Caucasus and fierce repression of any bid for freedom."