Amnesty International round table
Iraq: serial conflicts
Saturday 9 October — 4 pm
Amnesty International round table
Iraq: serial conflicts
Iraq has been beset by conflicts for forty years. And the West has been far from neutral in this chaos. This encounter takes us back to the various conflicts and the involvement of the West, particularly with regard to the use of chemical weapons by the regime of Saddam Hussein.
Encounter presented by Virginie Roels, Editor-in-Chief of the Amnesty International Chronicle.
With Jean-Pierre Canet, author of the documentary series Iraq, destroying a nation, Jeanne Sulzer, Head of the Legal Affairs Committee, Amnesty International, Aymeric Elluin, Advocacy officer, Arms, Amnesty International.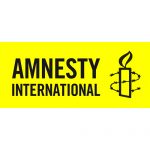 —
Auditorium
1, rue de la Bretagne
Free admission
October 9 2021
16:00
Auditorium