[fusion_builder_container hundred_percent="yes" overflow="visible"][fusion_builder_row][fusion_builder_column type="1_1″ background_position="left top" background_color="" border_size="" border_color="" border_style="solid" spacing="yes" background_image="" background_repeat="no-repeat" padding="" margin_top="0px" margin_bottom="0px" class="" id="" animation_type="" animation_speed="0.3″ animation_direction="left" hide_on_mobile="no" center_content="no" min_height="none"]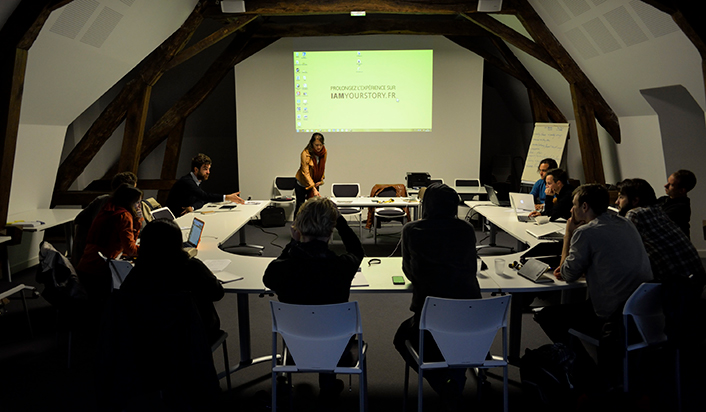 With 2017 marking the 10th anniversary of NOOR Images and the 100th anniversary of Nikon, together we celebrate our continued collaboration. On this occasion NOOR Images and the Nikon France Pro Department invite visual journalists and documentary photographers to apply for the 2017 NOOR-Nikon visual journalism workshop – Developing your Transmedia & Long-term Project with Pep Bonet and Kadir van Lohuizen.
The workshop will take place in Bayeux, France, from 3 to 7 October, coinciding with the Rencontres Prix Bayeux-Calvados prize meeting and festival for war correspondents.  The workshop program will make this most of this context, integrating special events from the program and connecting workshop participants to the inspirational and important network of attendees.
The workshop is open to young and aspiring visual journalists, including those intending to work in conflict zones and potentially dangerous environments, as well as those interested in developing a transmedia practice.
During the five-day program (see below), NOOR photographers and agency co-founders Pep Bonet (ES) and Kadir van Lohuizen (NL) will share key insights, experiences and tools to help workshop participants develop their own long term transmedia projects. The program includes one on one portfolio reviews with each tutor, group editing sessions, along with presentations and discussions covering everything from transmedia project conception, budget development and production, to collaboration and dissemination.
Participants can get the most out of the experience when they come to the workshop with a body of work they are currently editing, working on and/or thinking about how to share with audiences. The workshop will be an intense, intimate, creative, productive and inspiring experience. Participants will come away from it not only with new knowledge, ideas, tools and motivation, but also with a new network of colleagues – all of which will push their projects and practice further.
THE TUTORS
Pep Bonet (Spain, 1974) is an award-winning filmmaker and photographer who has travelled extensively capturing profound moments that represent the unbalanced world in which we live. His longer-term projects focus on African issues, with his most well-known project being 'Faith in Chaos', a photo essay on the aftermath of the war in Sierra Leone. He is also known for a long-term reportage on the rock 'n roll band Motörhead. Pep was a recipient of the W. Eugene Smith Humanistic Grant in Photography in 2005, the Horbach Award in 2015, and has won three World Press Photo Awards in 2007, 2009 and 2013. Pep frequently lectures on photography, multimedia and film, and lives in Mallorca, Spain.
Kadir van Lohuizen (The Netherlands, 1963) has covered conflicts in Africa and elsewhere, but is probably best known for his long-term projects on the seven rivers of the world, the rising of sea levels, the diamond industry and migration in the Americas. Kadir has received numerous prizes and awards in photojournalism. In 2000 and 2002 Kadir was a jury member of the World Press Photo contest and is currently on the supervisory board of the World Press Photo foundation. Kadir is a frequent lecturer and photography teacher and is based in Amsterdam.
PROVISIONAL PROGRAM OUTLINE
3 October, Tuesday: Day One
Afternoon
• Welcome from Nikon France & NOOR
• Outline workshop program
• Participant introductions
• Visit festival exhibitions together
• Pep Bonet presentation & discussion: going from stills to film & mixing medias
Evening
• Welcome dinner
4 October, Wednesday: Day Two
Morning
• Kadir van Lohuizen presentation & discussion: pre-production and planning a transmedia project
• One on one portfolio reviews – each participant will have reviews from both Kadir & Pep
Afternoon
• Continue one on one portfolio reviews
• Pep presentation & discussion: production & technique on a budget
5 October, Thursday: Day Three
Morning
• Pep & Kadir presentation & discussion on their collaborative transmedia project on human trafficking, gaining access and interviews.
• Editing participants' work in small groups
Afternoon
• Continue small groups editing session
• Kadir presentation on project proposals & pitching
• Participants work on final presentations with tutors available for feedback
6 October, Friday: Day Four
Morning
• Guest speaker journalist Lucas Menget (RadioFrance, Canal+, FRANCE 24 & more) will present & discuss his experience, projects and work with NOOR and Upfront
• Participants final projected presentations
Afternoon
• Recap on final presentations
• Kadir and Pep presentation & discussion: covering conflict and ethics.
• Kadir and Pep final presentation & discussion: dissemination and reaching your audience: editorial, film, exhibition, digital platforms
Evening
• Nikon party
7 October, Saturday: Day Five
Morning
• Visit to observe Prix Bayeux-Calvados jury in action
Afternoon
• Book signing with Pep
Evening
• Prix Bayeux-Calvados Awards ceremony at Chapitteau, followed by the Awards Dinner
PRACTICALITIES
Tuition and meals during the workshop are free through the generous support of Nikon France. There cost of the accommodation package is EUR 350. Nikon France and Prix Bayeux-Calvados offer workshop participants access to all professional events happening around the Rencontres Prix Bayeux-Calvados, including the Nikon party on Friday 6 October and the awards ceremony on 7 October.
Please note – all participants are responsible for arranging their own travel and expenses to and from Bayeux. Possession of a passport and travel insurance is required to apply.
Please do bring a laptop and hard drive to show, share and store your work. It's not necessary to bring your recording equipment, but you are welcome to do so. Nikon will provide some equipment during the workshop for demonstration and testing.
REQUIREMENTS
• Basic experience (two to three years) in documentary photography or photojournalism in professional or educational setting
• English fluency (the workshop will be conducted in English)
• Good technical understanding of your camera equipment
• Aged 35 years old or younger
TO APPLY
Complete the Application Form, including your motivation (200 words maximum), relevant work experience (200 words maximum), relevant education & trainings experience (200 words maximum) & a description of the project you are currently working on (200 words maximum).
The form will also prompt you to submit an image portfolio which must be submitted as a PDF and include the following:
> No more than 40 images in total including:
> At least one photo story (minimum 8 images, maximum 20 images)
> No more than 8 single images (images which are not part of a photo story)
> All images should be accompanied by a short caption including the date the photo was made
> For any photo story, please include a title and short introduction
There are also fields for applicants to include up to three Vimeo links for video
Organized with the generous support of Nikon France.
NOOR (Amsterdam): Asmara Pelupessy, Education Director
education@noorimages.com
Phone +31 20 21 42 040
Nikon France (Paris): Toan Pham, Service Nikon Pro
Toan.Pham@nikon.com
Phone: +33 14 516 4621
More informations :
Where : Place Gauquelin-Despallieres, Bayeux, France during the Rencontres Prix Bayeux-Calvados prize meeting and festival for war correspondents.
Who : 7-12 participants, 35 years old and younger
When : 3-7 October 2017
Deadline to Apply : 20 August 2017, 11:59pm (CET)
Notification of Selection : 5 September 2017[/fusion_builder_column][/fusion_builder_row][/fusion_builder_container]